Cleopatra - Milk Bath shooting
Cleopatra is the last queen of egypt. She is known for her power, political cleverness and for her seductive skills. 
Her image is alive as well as her name is.
Although living from 69 till 30 before Christ Cleopatra is a modern female character, inspiring cosmetic and costume industry, being a character you can meet in literature, games, theatre plays, movies and last but not least in this shooting.
Cleopatra - the person
We think of her as a stunning beauty. But from different sources we know, that not her outer appearance is the key to her unique charisma. Her radiance is based upon intelligence & charme, her will for power plus that she surrounded herself by the most powerful men of her time. 
She could speak 9 languages, and was an educated woman, for example in medicine and politics.
As she is banned from Alexandria by her king and brother, to whom she is actually married, she needs military help to gain her crown back. She asks the most powerful Cesar for help.
And is (21 years old) able to return to Alexandria as queen. Finally she seduces the man who make it happen; Cesar (52 years old).
As Cesar is murdered she loses everything. Her man, her privileges. She goes back to Alexandria with Cesarion. Cesar's & her son.
And again Cleopatra uses seduction to secure her interests by the man of power. Antonius. Three children are the result of their love & passion.
In the Roman Civil war, after Cesars dead, Antonius is up to build up a new world order, but has a very strong enemy, Octavian.
Octavian convinces Rome that Cleopatra is an enemy, 'the bitch from Nil', and they begin a war agains her and her troops. 
As Alexandria is taken by Octavians forces Antonius commits suicide. As well as Cleopatra does.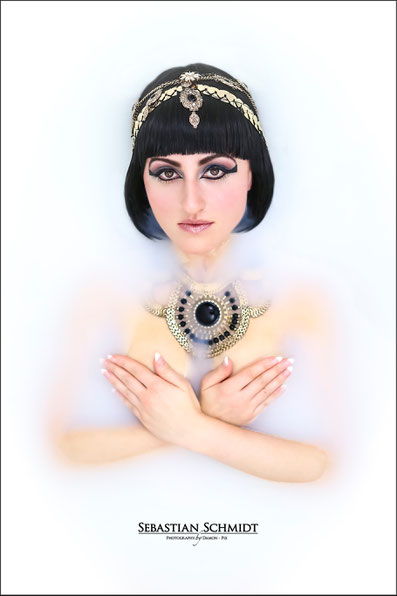 Milk-Bath-Shooting
Milk bath Shootings are a photographical trend. Since several years you can see many of them. Usually female models are bathing sensually in milk, which is photographically often combinated with the motive of flowers.
I`ve never seen a Cleopatra bathing in milk before, although this is the first association I have when thinking of a milk bath.
The egypts were those to invent and develop the first cosmetics. Making rouge and lip cream for the feminine beauty. They have rituals for washing and furthermore applications, which we would call 'wellness' today. And sure, they bath in milk.
I like a kind of mysterious and sacred spirit to be around in my photography.
Cleopatra is the one who gives me her gifts for this shoot.
And this is how I look like as Cleopatra bathing in milk.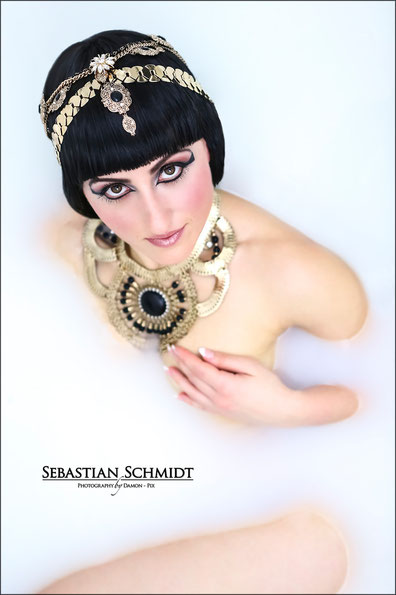 As the legend says, Cleopatra commits  suicide by a Cobra biting her breast.
But being an intelligent and educated woman she must have been aware of the drainful dead a Cobra would cause. In fact it is more realistic that she commits suicide by drinking a poisoned cocktail. 
The Cobra legend might be a story her doctor tells after her dead to safe her image for the living.
That`s the way she dies
....and that`s the way she lives. For example as image and icon of this photography.
Model: Dia Dence
Make up: Teresa Vandyk
Assistant: Silke Schwarz
Photography: Sebastian Schmidt, Photography by Damon Pix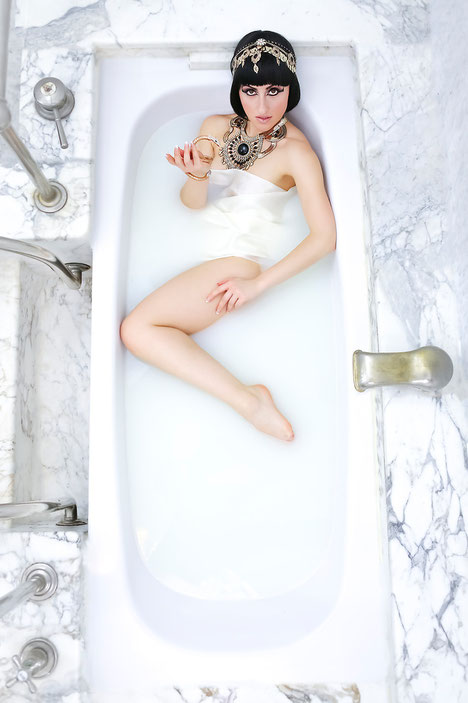 What do you need for your Milk Bath Shooting?
Beside a good photographer, in this case it is Sebastian Schmidt, Photography by Damon Pix who supports my idea, and a model you will need this:
1. Bathtub with water supply
2. Room not too small, so that the photographer can move as well as catch the right perspective and install some lighting if needed
3. maybe a ladder to shoot from above.
4. milk - we used 3 litres for a bath of water. You can use more milk, if you like, but not less. Don`t fill the bath full with water, if you want the body lines to come out.
5. Cleopatra make up
I was lucky to be supported by Make up artist Teresa Vandyk who gave me the right look. 
We were inspired by Liz Taylor's Cleopatra Look Teresa combined with another Cleopatra Make up.
6. Costume:

My Cleopatra is made of these accessories:
- three necklaces in gold. 
I wear two of them as hair arrangement and one as a necklace
- a wig in black
- a small Cobra
- and a silky material 
If you want to experiment with the silhouette of the body in milk water.
Good luck!
I hope you enjoyed my Cleopatra-Shooting-Blog!
Here you will find more of my works: www.facebook.com/DiaDence
Thanks for reading!
Kisses
Dia Dence
Burlesqueartist